Our Products
noteworthy
Monetta Farrier Specialties' 20th Annual Spring Fling & Open House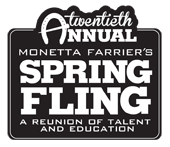 April 18, 2015
Open House (All are welcome)

April 16 & 17, 2015
Two days of Hands-On (Limited to 20 participants per day)
We are currently compiling a waiting list for the hands-on dates. Beginning in February, we will confirm and take deposits for the hands-on date (once we have confirmed the schedule for our clinicians).

We look forward to seeing everyone here in April!
Hot off the Press
Download the latest News for Farriers and Natural Angle available through Monetta Farrier Specialties. [PDF Files]